Taleem Institute Summer School
During the Summer Holiday, Taleem Institute organizes an educational Summer School that includes fun activities, educational projects that encourage students to learn about the Quran, Islamic Studies, and recreational activities. Specific age groups and class times/dates will be updated before every summer school.
With the grace of Allah, we are extremely proud and excited to welcome you all back to our SUMMER SCHOOL OF FUN. We are set and ready to welcome all of our students and the wider community to our super fun and educational summer school. Registration is required through our link below. Whoever wants to enroll in Summer School, must fill up the registration form.  https://taleeminstitute.com/admission/child-adission-form/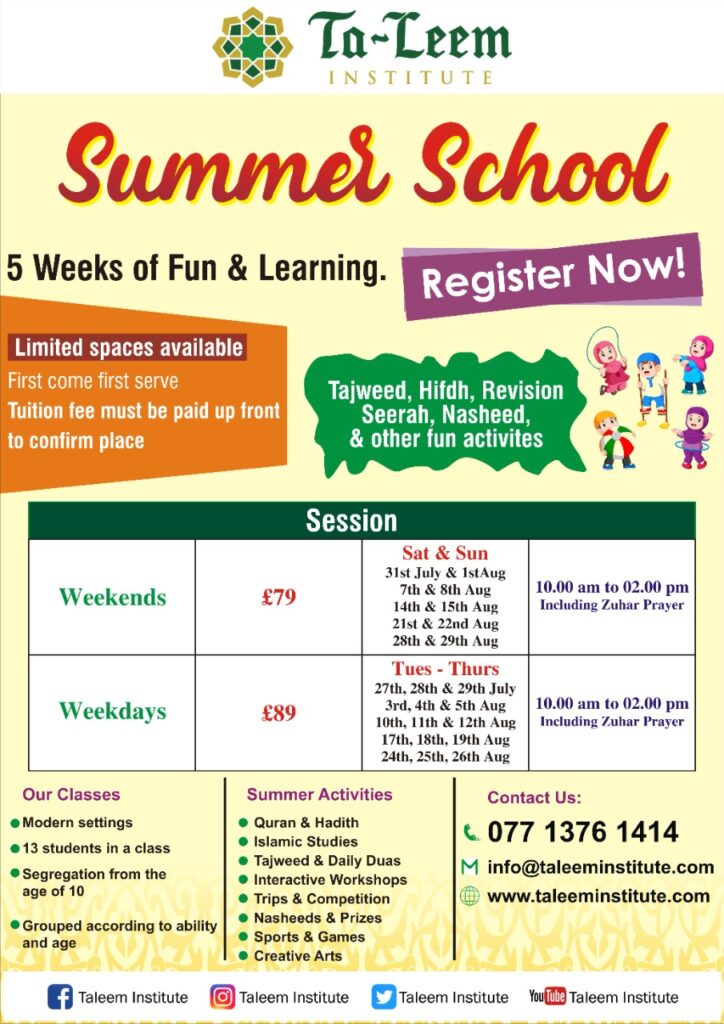 During the course, great importance is attached to ensuring every child gets off to a good start in learning to pronounce the letters of the Arabic alphabet correctly which helps with correct recitation. Students are allocated into groups according to ability and are taught by well-trained staff who ensure students are engaged and motivated to learn.
Students enjoy exciting and fun-packed art lessons where they have been learning different forms of still life drawing, and clay sculpting. Students also worked with textiles and various forms of paints. These lessons are driven to inspire student's creativity, and the ability to problem-solve in a myriad of ways.
The Hajj pilgrimage is an annual event that is a must for all able Muslims to perform. It plays an integral role in the life of every Muslim, young or old. Selected stories of Prophet Ibrahim's sacrifices and his family's journey are taught to our students in order to endear them to our religion.
As part of a two-week project, students build and recreate important places and rituals of Hajj. This simulation allows students to experience the reality of performing Hajj.
Tug of war provides our participants with the opportunity to partake in a team sport. This exercise is specifically chosen to strengthen our student's ability to work as a team. Although this sport is a favorite of ours, we also encourage students to partake in other sports.
We encourage our students to be knowledgeable in history and not just Islamic history. In the past, we have organized visits to the Natural History Museum. The interactive exhibit allowed students to investigate various fossils, travel through a giant planet, and come face to face with dinosaurs.